MISIR KURDU
Türkçe ismi  :  Mısır Kurdu , Darı kurdu, Mısır-Darı kurdu, Avrupa mısırdeleni 
Bilimsel ismi :  Ostrinia nubilalis, ( Lep.,Pyralidae)  
İngilizce ismi :  The European Corn Borer (ECB),
Konukçuları  :  Başta mısır olmak üzere 200 den çok bitki türüne bulaşmaktadır. Bunlar arasında
biber, patlıcan, fasülye, patates, buğday, kenevir, ayçiçeği, krizantem, yıldız çiçeği ve bazı odunumsu bitkiler bulunmaktadır.
Kaynak :

http://ipm.ncsu.edu/vegetables/CommercialVegetables/SCRBeans.html
http://ipm.ncsu.edu/cotton/insectcorner/blacklight/ : Black Light Trap Captures of Corn Earworm
Moths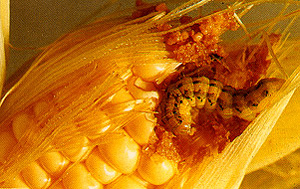 European Corn Borer (ECB)-Snap Beans Only. Treat when moth catches in local blacklight traps average five or more per
night. The first application should be applied during the bud-early bloom stage and the second application during the late bloom-
early pin stage. Additional sprays may be needed between the pin spray and harvest. Consult
a pest management specialist for local blacklight trap information and
recommended spray intervals.
BU ZARARLI İLE MÜCADELEDE FEROMON VE IŞIK TUZAKLARINI KULLANINIZ